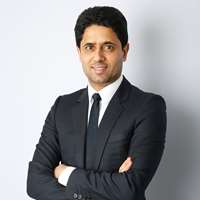 Message from our President
The Paris Saint-Germain Foundation was created 20 years ago to help children and young people in difficulty. Aware of its importance in underprivileged neighbourhoods, as soon as I arrived, I wanted to expand its programmes and actions, to support more and more children on a new road to success.
In 2016 we have created our first ROUGE & BLEU School in the 19th arrondissement of Paris. Two years later, a second school has been opened in Mantes-la-Jolie. I am particularly proud of this "after school" programme which proposes an innovative educational and sporting approach to support children's education. At the same time, our commitment to young adults is not weakening. Launched at the Foundation's creation, our professional inclusion programme has already trained more than 300 educators in sport entertainment and sport jobs
I would like to thank the team of the Paris Saint-Germain Children First, our partners and the entire Club Paris Saint-Germain community for their growing commitment to the youth and people in difficulty and congratulate them on their progress. More than ever, I am convinced that sport and its values constitute a strong lever of learning, fulfilment and solidarity.
Nasser AL-KHELAIFI
President and CEO of Paris Saint-Germain
President of the Paris Saint-Germain Children First
Since its inception in 2000, our Foundation aims to support disadvantaged or sick children, as well as young people and communities in difficulty. We develop educational and sports programmes in France and abroad, which use sport and its values as a lever for learning, self-development and solidarity.
Through our social and professional inclusion programme, our ROUGE & BLEU Schools, our support for refugees and our donations to charities, we draw on the educational and psychological benefits of sport to support the socially disadvantaged and people with medical issues.
More than 220,000 children and teenagers have benefited from our programmes in the last 18 years.
Sport conveys strong universal values: mutual aid, solidarity, exemplarity, respect, diversity, generosity and effort, etc.
As true ambassadors of our values, the Paris Saint-Germain players actively support our actions.
Through sport and its values, we seek to act positively and concretely in order to help people face their difficulties: helping sick children to forget about their illness for a moment; transmitting values such as respect to young people in underprivileged neighbourhoods; offering a social and professional inclusion programme for young adults; and comforting people facing emergencies.